Toronto
Declaration of Inclusive Workplaces and Communities
The construction industry in greater Toronto is one of the strongest and most dynamic sectors of our economy. It owes its success to the hard work and tenacity of people at every level of the industry – including those born here and those whose families have come from elsewhere to build a better life.
As developers, contractors, supervisors and skilled workers, we recognize that systemic racism is a reality in today's world, and that discrimination in any form harms our construction community. Dividing people because of race, religion, colour, ancestry or any other difference which undermines human rights serves only to weaken our industry and our society.
We commit to standing up for the rights and dignity of all in order to promote inclusive, equitable, safe and respectful workplaces and communities.
This is why we affirm that:
The dignity of every person is essential to a safe, healthy and vibrant workplace, and we will work together to create welcoming and inclusive workplaces and training opportunities.
Anti-Black racism, bigotry, or discrimination of any kind has no place in our workplaces or communities.
Our industry will have zero tolerance for discrimination or acts of hate against anyone in our workplaces or enterprises.
We will develop policies, programs and initiatives at every level of the industry to reduce and eliminate racism, intolerance and bigotry.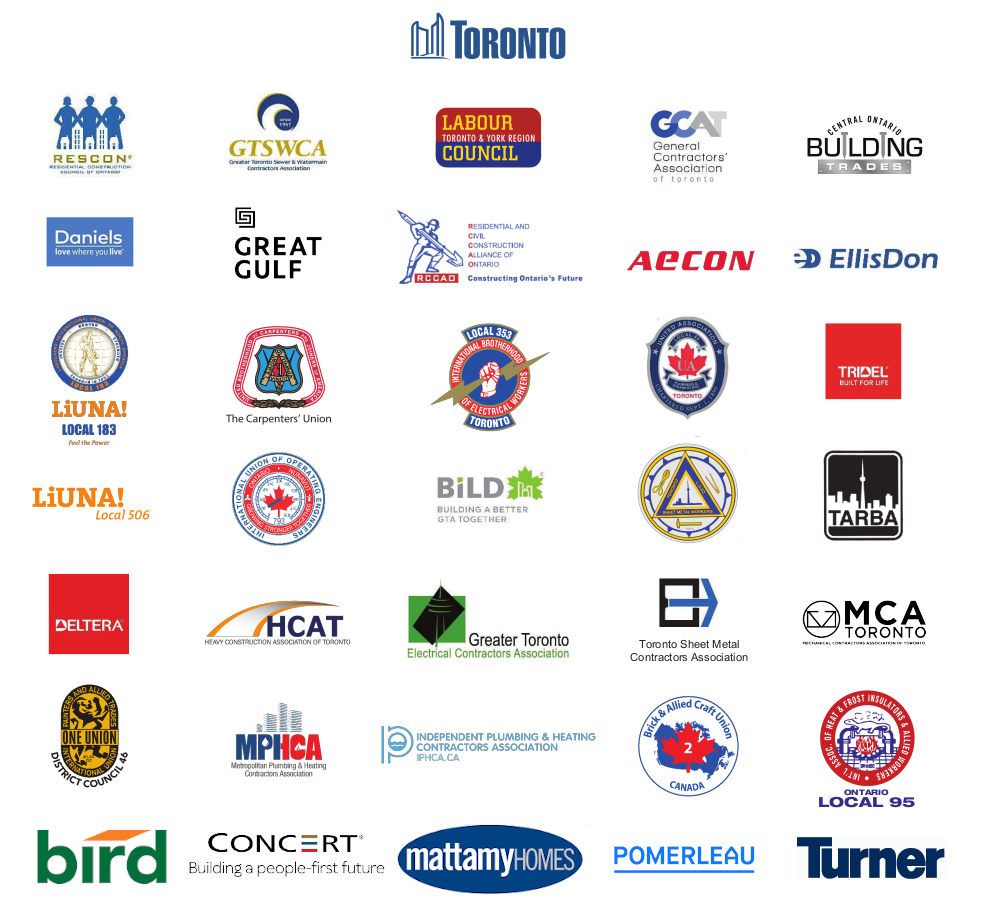 Download a PDF poster of the Declaration.
To endorse the Declaration, send the organization contact details to info-at-constructiondeclaration.ca. Please include: Name of Organization, Mailing Address, Contact Person, e-mail, and phone number.
Endorsers:
Mayor John Tory, City of Toronto
Residential Construction Council of Ontario
Toronto & York Region Labour Council
General Contractors Association of Toronto
Central Ontario Building and Construction Trades Council
Ellis-Don
The Carpenters Union
The Daniels Corporation
LiUNA Local 183
GREAT GULF
United Association, Plumbers and Steamfitters Local 46
Mechanical Contractors Association of Toronto
International Brotherhood of Electrical Workers Local 353
Electrical Contractors Association of Greater Toronto
LiUNA Local 506
AECON
International Union of Operating Engineers Local 793
Greater Toronto Sewer and Watermain Contractors Association
Toronto Area Road Builders Association
Residential and Civil Contractors Alliance of Ontario
Heavy Construction Association of Toronto
TRIDEL/DELTERRA
Metropolitan Plumbing and Heating Contractors Association
Independent Plumbing and Heating Contractors Association
Sheet Metal Workers and Roofers Local 30
Toronto Sheet Metal Contractors Association
Painters and Allied Trades District Council 46
Building Industry and Land Development Association
Bricklayers and Allied Crafts Union Local 2
Heat and Frost Insulators Union Local 95
Hilti (Canada) Corporation
Bird Construction
Concert Properties Ltd.
Mattamy Homes
Pomerleau
Canadian Turner Construction